Everything You Need to Know About Giggy the Pom
He may just be the most popular TV dog since Lassie, so it's no wonder that Lisa Vanderpump's Pomeranian pup, Giggy, has it all. The pampered canine made a memorable cameo on the season premiere of "Dancing With the Stars," sports designer duds, has rich and famous friends, posts regularly on his own Twitter account, and is signed with the prestigious Creative Artists Agency. You know, the same high-end talent firm that boasts A-list clients like Jennifer Aniston, George Clooney, and Tom Cruise. That's a lot of power for one pint-size Pom! And we all know he's the real star of Bravo's "Real Housewives of Beverly Hills."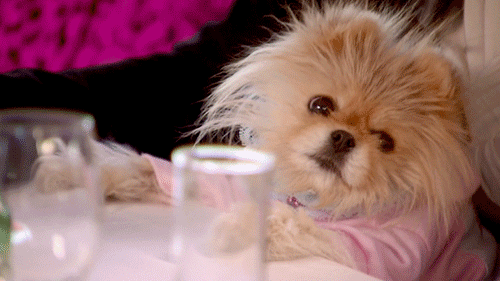 Here's everything you need to know about reality TV's top dog, Giggy:
He's a mountain dog
He may live a cushy life in Beverly Hills, Calif., but Giggy hails from a coal-mining mountain region. The priceless pup was born in West Virginia and given to Lisa on her birthday in 2009. A recent spread in Us Weekly reveals he weighs three pounds and turns up his nose at typical doggie fare like kibble. "Giggy loves toast, chicken, and veggies," Lisa told the mag. He even eats out of china, and his meals are sometimes served on a silver tray.
He goes by several names
Giggy's name is actually short for "Gigolo" (full name: Gigolo Vanderpump-Todd). On his website, the dapper dog describes his manly name this way: "My name is Gigolo, but many call me Giggy. My owner decided on the name as she saw me to be possibly the sexiest, cutest, most attractive little dog on this planet." So that explains it! While Lisa once described her relationship with the pup as "a wonderful love affair," he's definitely not a mama's boy. "I'm not his mother. I'm his mistress," she said. The "Real Housewives" star sometimes refers to Giggy as the "Sex Monster."
His clothes are more than a fashion statement
The tiny pup has allergies and a condition called alopecia, a form of pattern baldness that causes him to lose his fur. Lisa told People, "He's got chronic alopecia so that's why he wears clothes. Am I the kind of woman that's going to dress her dog up every day if I didn't have to? Probably not. My other dogs don't wear clothes, but Giggy has to. It's a necessity." Of her doggie's designer threads — Giggy fancies posh pajamas to cover his bare bum, Lisa said. Her attention to every sequined doggie detail has a grateful Giggy revealing in his bio, "I was given almost as an act of God to somebody that the balder I became the more she loved me."
His feet rarely touch the ground
While he has a passion for fashion, one accessory Giggy snubs is the dreaded pet carrier. Lisa told Petside, "Giggy is never carried in a pet tote. He doesn't like it and prefers to be carried. Other than the house and the grounds, he never walks on the ground in public. If we put him in a bag, he will bark … just as he does when we go out and leave him at home with the other dogs. He prefers human company; he prefers to be with us, and we love taking him everywhere."
He's an award winner
In 2012, Giggy won the Golden Collar Award (OK, he tied with the pit bull from "Pit Boss") for best dog in a reality TV series, beating out his "RHoBH" co-star Jackpot (Andrienne Maloof's pooch), Millou from "The Real Housewives of New York," and Spartacus from "Ice Loves Coco." After Giggy's well-deserved win, Lisa told The Hollywood Reporter, "He's the only gigolo I sleep with. And I'll be wearing the Golden Collar later tonight — with a pair of stilettos."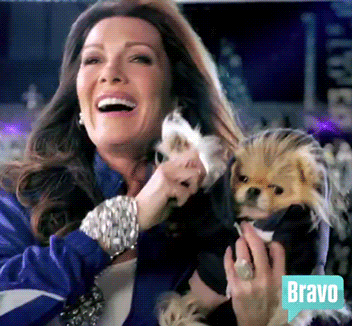 He's a social networking fanatic
The Internet-savvy Pomeranian has his own Twitter account and he knows how to use it! Giggy's followers top 67,000, and his tweets often end with his trademark "Tum Ti Tum Tum!" Giggy also has a Facebook page and his own website. And while that other famous Pomeranian, Boo, may be dubbed "The World's Cutest Dog" and boasts nearly 7 million "likes" on Facebook, Giggy's celebrity fame seems more legit. According to the Atlantic, Boo's viral Facebook status is no coincidence, as his owner is a top FB employee. Plus, Boo doesn't star in a TV show and we've yet to see him hit the dance floor on "DWTS" — Giggy has so been there, done that!
Check out Giggy on "Dancing":

He's found commercial success
Giggy recently appeared in several webisode-style commercials for "I Can't Believe It's Not Butter." While Lisa made "breakfast after dark" with the various men in her life, Giggy was eating up the camera! (Can you smell a Clio Award?) Of Giggy's entertainment gigs, Lisa told Us Weekly, "He's very talented and ready to work. He can do charity; he is open to anything. The only thing he isn't very good at is radio."
He's got friends in high places
Alec Baldwin? Check. Gerard Butler? Check. Heck, Giggy's even been photographed with Betty White! Not only that, this canine's clout landed him a CNN correspondent gig (along with Lisa) for the 2011 royal wedding of Prince William and Kate Middleton. And speaking of weddings, Giggy was front and center when Lisa and her husband, Ken Todd, renewed their vows last summer after 30 years of marriage. The couple took turns holding Giggy during the ceremony.
He's a party animal
Not only did Giggy host a tea party with his best puppy pals at Lisa's posh Beverly Hills, Calif., eatery Villa Blanca (the occasion: the DVD release of "Beverly Hills Chihuahua 3"), he's also been known to lick vodka tonic ice cubes. He even has a trademark cocktail called the Giggy-tini:
View the article in it's entirety at Yahoo